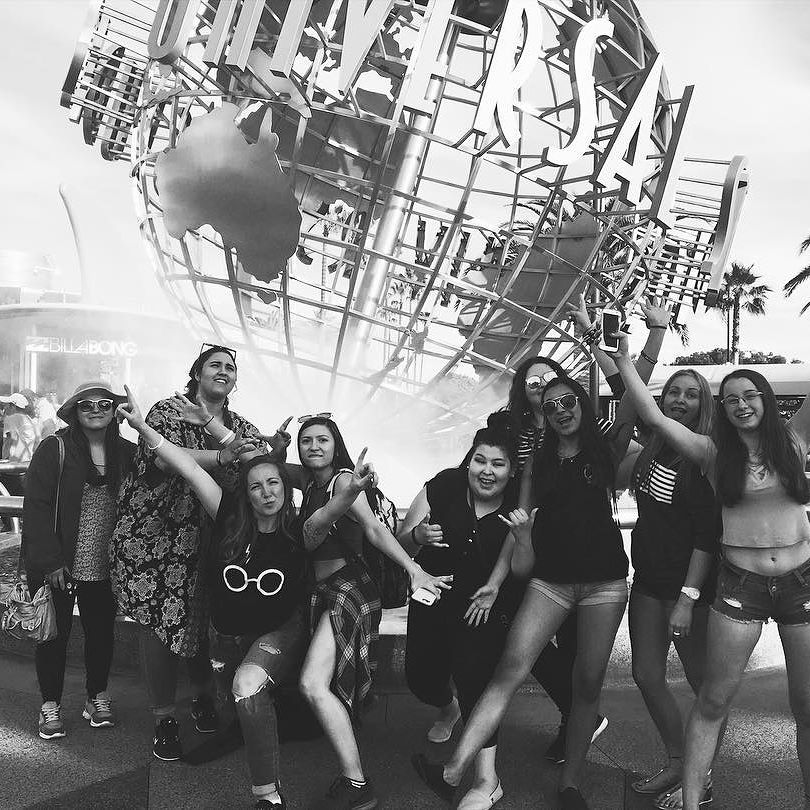 "The only word to describe Calbreak is AMAZING. From theme parks to late night Target runs and everything in between. A great time with great people."
1. WHAT IS INCLUDED IN THE CALBREAK FEE?
SIX NIGHTS ACCOMMODATION AT THE HOLIDAY INN

ENTRANCE INTO:

DISNEYLAND

DISNEY'S CALIFORNIA ADVENTURE

UNIVERSAL STUDIOS HOLLYWOOD

VISITS TO BEAUTIFUL CALIFORNIA BEACHES

ONCE IN A LIFETIME SHOPPING OPPORTUNITIES

SATURDAY NIGHT BANQUET

TUESDAY SMALL GROUP PIZZA LUNCH

EPIC SAN DIEGO BEACH PARTY
ADDITIONAL OPTIONS (some have extra fees)

PRIVATE SURF LESSONS ($100)

NEWPORT BEACH (FREE)

SIX FLAGS MAGIC MOUNTAIN ($75 - includes all you can eat supper at a private picnic area!)

DISNEYLAND BONUS DAY ($100)

PROJECT SERVE IN DOWNTOWN L.A. ($25)


TRANSPORTATION WITH A LUXURY BUS LINE

EXCITING EVENING EVENTS

A FEW MORE LITTLE SURPRISES ALONG THE WAY
Our exciting evening programs include games, crowd breakers, small group discussions, and 4 large group sessions with a guest speaker. We discuss topics relevant to young people from a Christian perspective.
2. WHEN DO WE LEAVE AND RETURN?
Buses will be leaving the afternoon of Thursday, April 9. Each will make a few pick-up stops at major centres; times and places to be confirmed. On Sunday, April 19, we return to Saskatchewan in the early afternoon; times and places to be confirmed.
3. HOW DO I FIND OUT ABOUT BUS LOADING TIMES AND LOCATIONS?
Once registered, you will be directed to a special website exclusively for CALBREAK students and parents. Information regarding bus lists, loading times and locations, along with all other important info will be posted to that website in the weeks prior to the trip. In case you were wondering, we take Prince Albert Northern deluxe motor coaches, and they are sweet rides!
4. DO I GET TO BE ON THE SAME BUS AND IN THE SAME HOTEL ROOM AS MY FRIENDS?
We know that CALBREAK is an amazing opportunity to experience California with your friends. We work hard to make sure you are on the same bus as your friends, as well as making sure you and your friends are in the same small group and hotel rooms. Make sure you indicate your roommate preferences on your registration form!
5. WHAT RULES WILL THERE BE ON CALBREAK?
SCHEDULED DINNERS, EVENING PROGRAMS, AND DAILY ATTRACTIONS ARE COMPULSORY.

NO ALCOHOL OR DRUGS ARE PERMITTED - THIS WILL BE STRICTLY ENFORCED AND IS NON-NEGOTIABLE.

GUYS ARE NOT PERMITTED IN GIRLS ROOMS AND VICE VERSA

ALL US AND CANADIAN CUSTOMS/IMMIGRATION REGULATIONS WILL BE INSISTED UPON.

A REASONABLE NIGHTLY CURFEW WILL BE ANNOUNCED EACH EVENING.
Any violation of our community guidelines will result in a discussion with the trip director, and could also involve a phone call to the parents/guardians. If the issues cannot be resolved and the behaviour continues, at the discretion of the trip director, the student could be sent home at the expense of the parent/guardian. The exception is the drugs/alcohol rule, which would result in the student's immediate expulsion from the trip, at the expense of the parent/guardian.
6. WHAT SHOULD I BRING?
Shorts, swim wear, comfortable shoes, beach towels, suntan lotion, sunglasses, and other appropriate clothing.

You can bring one suitcase and one carry-on bag per person. Space can be tight, so keep that in mind as you pack

A pillow, blanket and some snacks are suggested for the bus ride. We will making frequent stops during the day for you to restock

It is best to carry bank card/pre paid credit cards instead of cash, but remember to have a small amount of cash to start with.

A passport is required for the trip. FOR MORE INFO ON GETTING A PASSPORT: CLICK HERE
7. WHAT OTHER MONEY DO I NEED?
Each student is responsible for their food during the bus trip, down and back, breakfasts, if desired, and most other meals during the week, other than the five special meals included in this package in California. We recommend $350-$400 US to be an adequate amount of spending money. (Approximately 23 meals at $10 each = $230 and $30 for snacks along the way. As well, plan for 2- 3 meals eaten in Canada, on the way there and back; $10/meal; $20-$30 CDN.

Remember that we are also visiting some of the most amazing shopping centres and premium outlet malls, so plan accordingly.

When we return to Canada, each person can claim goods worth up to $800 CDN without paying any duty or taxes. (approximately $610 US)
8. IS THERE ANY FREE TIME?
Yes, there will be some free time for you to spend swimming in the hotel pool and going to surrounding restaurants with friends, etc. Also when we are at the amusement parks and beaches, you are not required to stay in one big group. We will set a time for everyone to meet back at the buses and for every minute a person is late they will be charged $1 US.
9. WHAT ABOUT MEDICAL INSURANCE?
Each student should have $1,000,000.00 medical coverage. It should cost about $2/per day and can be picked up from Blue Cross or other insurance provider. BLUE CROSS: http://www.sk.bluecross.ca/travel/

11. WHAT KIND OF ADULT SUPERVISION IS THERE ON CALBREAK?
We pick responsible adults who love to hang out with students

Our staff/student ratio is 1:7, one of the best ratios in the country!

Each staff has gone through extensive criminal record checks

Each staff is responsible for a small group of 6-8 students, so that each person is accounted for and given the best care

Average age is around 27, some are YFC staff, others are university students, teachers, nurses, and other professionals
12. WHERE DO WE STAY?
The beautiful Holiday Inn Buena Park is our home during CALBREAK. Located near Knott's Berry Farm, Disneyland® Park and the Angel Stadium of Anaheim, this Holiday Inn is a 248 room full-service hotel, focused on serving both business and leisure travelers visiting the Anaheim area. They have just completed the renovation of all guest rooms! Most importantly, it is across the street from TARGET!!
This Buena Park Hotel boasts a picturesque lobby, charming restaurant, cozy cocktail bar and the area's largest and newly renovated outdoor heated pool and whirlpool and free wi-fi throughout the hotel (it's even available by the pool!). Visitors enjoy our outdoor gazebo and fountains - a perfect backdrop for photos. And for those who can't miss their workout while on CALBREAK - the well equipped fitness center is a welcome necessity.
The Holiday Inn Buena Park is nearby many of Southern California's most popular attractions. They are just minutes from Anaheim Convention Center, Disneyland® Park, Disney's California Adventure® Park, Downtown Disney® District shopping, Knott's Soak City, Knott's Berry Farm and the Angel Stadium of Anaheim.
13. HOW SAFE IS THE TRIP?
The trip has had a track record of over 40 years of safety. We travel with Prince Albert Northern bus lines on deluxe motor coaches.

Our hotel is in the quiet, safe city of Buena Park, a suburb of Los Angeles.

The trip has a nurse and every bus has qualified staff with first aid.

At every park, we will have specific emergency meeting locations to gather in our small groups
14. WHAT IF I NEED TO CANCEL?
We understand that plans can change and things can come up last minute. If you need to cancel up until four weeks prior to the trip you will receive a refund minus a $100 administration fee. Any paid option fees cannot be refunded.
Within four weeks of the trip, we have already purchased theme park tickets, paid for the bus, hotel rooms and meals. Therefore, if you need to cancel four weeks or less prior to the trip, you will receive a refund, minus a $1000 administration and ticketing fee. If you need to cancel seven days before the trip, you will receive a refund minus a $1500 admin and ticketing fee.